PRAYER TO CURRENT HUMANITY
IS ASKING FOR WHAT IS BEYOND HUMAN CONTROL AND MEANS....
WHAT DID PRAYER MEAN TO EINSTEIN?
As recorded by Helen Dukas, below is the answer to the above question from a very interesting letter, recorded , which Einstein wrote to a child who asked him "whether scientists prayed".
"I have tried to respond to your question as simply as I could. Here is my answer.
Scientific research is based on the idea that everything that takes place is determined by laws of nature, and therefore this holds for the actions of people. For this reason, a research scientist will hardly be inclined to believe that events could be influenced by prayer, i.e. by a wish addressed to a supernatural Being.

However, it must be admitted that our actual knowledge of these laws is only imperfect and fragmentary, so that, actually the belief in the existence of basic all-embracing laws in nature also rests on a sort of faith. All the same this faith has been largely justified so far by the success of scientific research.

But, on the other hand, everyone who is seriously involved in the pursuit of science becomes convinced that a spirit is manifest in the laws of the Universe - a spirit vastly superior to that of man, and one in the face of which we with our modest powers must feel humble.

In this way the pursuit of science leads to a religious feeling of a special sort, which is indeed quite different from the religiosity of someone more naive."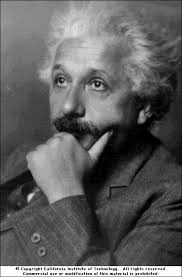 Albert Einstein 1879- 1955
The scientist who gave humanity a new meaning of 3-demensional space by adding to it a 4th dimension of time.
Yesterday at PVAF on AASHRAM NEWS as part of learning
veD which means SCIENCES OF CREATION AND LIFE, YOU read Sondra Barrett, Ph. D, a medical scientist said something very veDik about creation: "
"Learn how cells communicate and how to access their wisdom. Decipher hidden codes of your cells in nature and sacred art. Awaken your senses, heart, and gratitude"
And below is how Albert Einstein described the creator of the creation we exist in:
"Everything is determined, by forces over which we have no control. It is determined for the insect as well as the star. Human beings, vegetables, or cosmic dust - we all dance to a mysterious tune, intoned in the distance by an invisible piper."