Prajapatio of Shree Prajapati Samaj of Western Canada will be glowing with pride with the news that one of its sons who started to entertain them as a stand-up comedian in 1995 when the Samaj was established was standing very tall at the head of the 2001 graduating class of B.Com. at the University of Alberta in Edmonton.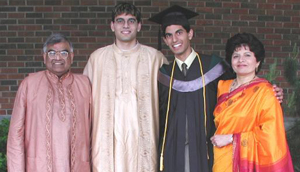 Dipesh is continuing his post-graduate studies to become a corporate and constitutional lawyer at University of Alberta. We pray to Bhagvan that Dipesh graduate with even higher honours with a law degree in three years time.
Please read more about Dipesh in the Graduate forum on the message board on this web site.......
Prajapati Vishva Ashram welcomes the news about Prajapati scholars..... For posting such news on this news board, please send such news to Prajapati Vishva Ashram