TO:      SHREE CHANDRAKANTBHAI D. LAD,  PROGRAM LEADER,  GUJARAT INTERNET PROGRAM,  CALGARY, CANADA.
 Namaste and  Hope you all are happy and healthy  there.  
First, many many heartiest thanks for providing , Vaapi Prajapati  Samaaj a precious gift of modern technology - a Computer.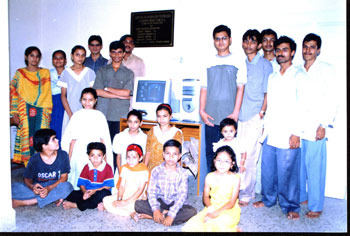 This computer is the most needed and useful  thing for learning and teaching  modern  art and knowledge of  computer. This gift joins us with the PRAJAPATI VISHVA ASHRAM and  other Prajapati samaj through the facility of internet.  
This computer has provided us with the ultra  modern facility of communication with you. Again we  thank you much.  
 We held the opening ceremony of  Computer Centre. This Computer Centre provides the computer technology knowledge free of charge to Prajaptio in our samaj.. We charge  minimum amount to cover  maintenance costs of the computer.  We started the Computer  Centre next day after inauguration  and started providing knowledge of computer to the Prajapati Student. We opened  the Computer Centre in the Prajapati Samaj Wadi  called "PRAJAPATI BHAWAN"  At Jalaaraam  Society, Kachigaam Road, Vaapi.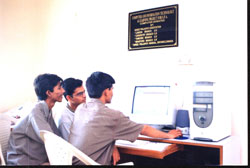 Presently we  have about  30 student  We are regret for sending this  report about the information  of  the Computer Centre  late because  the photographs of the Computer Centre were not  ready  Please pardon us. 
 We are sending herewith the photographs  of the opening  ceremony and student using the computer.  
Shree Hemant Prajapati and Shree Minesh  Prajapati of Vaapi Samaaj look after the Computer Centre under the supervision of SHREE  PRAJAPATI  INTERNATIONAL EDUCATION ASSOCIATION of Bilimora which is the representative of Prajapati Vishva Ashram in  Gujarat.  
Vapi Prajapati Samaj has its own  Trust, a registered  institution and has its trustee from the mandal. the following  are its members: 
 1. SHREE  NARSHIHBHAI  R. PRAJAPATI, President

 2. SHREE CHHOTUBHAI S. LAD, Secretary

 3. SHREE DHANSUKHBHAI C. LAD, Treasurer
The Trust runs the  Prajapati Waadi which has a marriage  hall, many rooms, kitchen, running water supply, electric supply facility and other  facility for  Prajapatio. Prajaptio of Vaapi observe many festivals  like Navraatri,  Ganeshotsav, etc. Seven years ago we used  to supply  free notebooks  to Prajapati students but we were forced to stop this activity due to lack of funds. This year we appealed to local donors of  the samaaj to donate generously and we received a magnetic and great  response to  our appeal. Thus we raised a fund of Rs.50,001/. The  donors are:
 1. SHREE HARKISHANDAS DAYARAM PRAJAPTI  who  donated Rs.25,001/- &

 2. SHREE CHHOTUBHAI SOMABHAI LAD who  donated Rs.25,000/-
We purchased notebooks at concession price and  provided the Prajapati Students these notebooks at a half rate.
Vapi Prajapti Samaj is HAPPY  TO JOIN WITH  YOU and  PRAJAPATI  VISHVA ASHRAM. We hope to receive co-operation and guidance 
We will be in touch with you and we will inform you regularly about our activities.
 Sincerely yours,
HEMANT PRAJAPATI,  Correspondent,
 PRAJAPATI SAMAJ - VAAPI.
 JALAARAAM SOCIETY, KACHIGAAM ROAD,
 VAPI Pin. 396 191.
 PHONE (0260)462024
Prajapati Vishva Ashram New Room thanks Shree Hemant Prajapati  for this news write-up and pray that you would continue sending news of Vaapi to be posted on this News Board on this web site. This will promote Vaapi Prajapati Samaj around the world and also Vaapi can do fund-raising outside Vaapi through this web site.