NEWS FLASH....WESTERN CANADA GUJARATI CELBERATE BI-ANNUAL TRADITIONAL RAASGARBAA+FOLK DANCE...showcasing Canadian multicultural lifestyle prosperity
Posted by Vishva News Reporter on September 6, 2010
ALBERTA GUJARATI ASSOCIATION


HOSTED
IN THE CITY OF EDMONTON
ALSO KNOWN AS
THE

"CITY OF CHAMPIONS"

AND

"CITY OF FESTIVALS"


IN ALBERTA, CANADA

(English Translation of the above Gujarati joke)
"Do you wish that the world takes notice of you and seeing you gets surprise?
It is very easy....
Take a photo doing head-stand on an huge elephant's back
and then enlarge the print but display it turning upside down....
a and enjoy the world surprise"
......But apart from the joke...
THAT IS A GUJARATI ETERNAL EVERGREEN
PERSPECTIVE OF
GUJARATI SELF IN LIFE
AND
THE WORLD GUJARATI LIVE IN...


SHOW-CASED BY FEW THOUSAND GUJARATI PEOPLES
PROSPERING WITH HARMONIOUS CO-EXISTENCE


IN MULTICULTRUAL WESTERN CANADIAN PROVINCES OF
MANITOBA, SASKETCHWAN, ALBERTA, AND BRITSH COLUMBIA
AMONG 10.5 MILLION WESTERN CANADIANS....


ABOUT GUJARAT AND GUJARATI PEOPLES
Gujarati people
are an
Indo-Aryan
ethnic group that is traditionally
Gujarati
-
s

peaking and can trace their ancestry to the state of
Gujarat
in northwestern
India
.
Famous Gujarati include
Mohandas Gandhi
,
Mohammad Ali Jinnah
(father of Pakistan)
, and
Sardar Vallabhbhai Patel
(a political and social leader of India and colleague of Mahatma Gandhi) who played a major role in the India's struggle for independence from 250-year British plundering of India and guided its integration into a united, independent nation. He was called the "Iron Man Of India")
....

To have a brief history of
Gujarati people
please click on the name hilite
.......
and to know about
Gujarat state
in India where 49 million Gujarati peoples have originated and emigrated to populate all over this planet Earth please click on the name hilite...

...ALBERTA GUJARATI ASSOCIATION HOSTS

THE 2010 RAAS GARBA FESTIVAL

IN EDMONTON, ABLERTA, CANADA
OON SEPTEMBER 3-5, 2010..
Edmonton 2010 Raas Garba Festival will bring together Gujarati from Western Canadian cities and the Edmonton community at large this summer. As the main event, the Raas Garba competition promises to be full of energy, creative imagination and talent of Gujarati youth and a celebration of their heritage. Winners will be announced and recognized during an awards dinner later the same evening. Other activities during the festival will include practice recitals, social and cultural events, games and health seminar.

This festival has previously been held successfully in Calgary, Edmonton and Vancouver. Raas Garba is a form of dance, similar to Western folk dance that originated in the western state of Gujarat, India. Many traditional garbas are performed in a circle around a central lit lamp in an earthen pot, signifying the Almighty pervading the Universe and powering the circle of life. People dance around the center, bending sideways at every step, their arms making sweeping gestures, each movement ending in a clap. Modern garba is also heavily influenced by Dandiya Raas, a dance traditionally performed by men. The merger of these two dances has formed the high-energy dance that is seen today. To continue reading the full story and also see the photos and video of this 3 day event please click on the name to visit the Raas Garba Festival website called "MY RASS" hosted by Alberta Gujarati Association based in Edmonton, Alberta Canada.....

.....THE ORIGIN OF GUJARATIO PEOPLES OF WESTERN CANANDA.....

....INDUS VALLEY CIVILIZATION-
THE OLDEST CIVILIZATION ON EARTH...
Map from Wikipedia)(
Extent and major sites of the Indus Valley Civilization. currently known and includes the state of Gujarat, India. The shaded area does not include recent excavations such as Rupar, Balakot, Shortughai in Afghanistan, Manda in Jammu, etc
(Map from Wikipedia)

Ancient Lothal as envisaged by the Archaeological Survey of India.. The findings consist of a mound, a township, a marketplace and the dock. Lothal is one of the most prominent cities of the ancient Indus valley civilization. Located in Bhal region of the modern state of Gujarat and dating from 2400 BCE. Lothal's dock—the world's earliest known—connected the city to an ancient course of the Sabarmati river on the trade route between Harappan cities in Sindh and the peninsula of Saurashtra when the surrounding Kutch desert of today was a part of the Arabian Sea. It was a vital and thriving trade centre in ancient times, with its trade of beads, gems and valuable ornaments reaching the far corners of West Asia and Africa.

ABOUT ALBERTA GUJARATI ASSOCIATION IN EDMONTON r />

(Photos from AGA Website)
The Alberta Gujarati Association, AGA, was started in 1970 and registered as a non-profit Society under Alberta Society Act in 1978 by a group of immigrants in Edmonton, Alberta, Canada that came from Gujarat, India. While looking for a way to connect with other newly arrived Gujarati people, AGA introduced festivities, cultural programs, events and more that the people of Gujarat were accustomed to back home. AGA has a current membership of over 400 families. The distinctiveness of AGA is Gujarati culture which has been identified to have existed during the Indus valley civilization which is the currently the oldest known civilization on this planet Earth. The current archeological finds dates Indus valley civilization to be over 10,000 years old. Indus Valley Civilization and Harappan Civilization was very probably evolved in science, industry, commerce, arts, life philosophy and metaphysical sciences more than the current state of evolution of current humankind civilizations.

AAAGA provides to its membership social, educational and sports program for Gujarati festivals such navaraatri, diwali, tulsi vivaah, jalaraam jayanti, gujaraati language learning classes, music learning and practices, seniors gatherings, sports events including a gujaraat Cricket Club, devotional activities through Shakti Satsung Mandal, mentoring to new gujaraati immigrants, social assistance to membership families in distress and mentoring to member students.

AGA participates and delivers social services to mainstream Edmonton communities and events such as Klondike days, Heritage festival, Canada Day Celebrations, International Day for Elimination of Racial Discrimination and other community events and fund-raising for world events such as Gujaraat Earthquake. br />
AGA has a long-term plan in place to build its own centre called strong>

Mahatma Gandhi Centre,

a "Gujarati Home Away From Home"

for 365/24 day to day living of Gujarati lifestyle by preserving and fostering gujaraati legacy in this twenty-first century and the third millennium.
(Compiled From My Raas website and My Story published by AGA in 2002)

Please click on the next line to read more about today's western Canada's Gujarati people's news story.......and to see event photos and videos... together with info on Gujarati peoples and their history, info on City of Edmonton including why it is called "City of Champions" and "City of Festivals" and the Canadian Province of Alberta which is also now called "Saudi Arabia of Canada" at the end of the news on the next webpage.....
---
AV

....WEBSITE LINKS TO TODAY'S
WESTERN CANADIAN GUJARATI PEOPLE'S NEWS.....

.....MESSAGE FROM
THE PRESIDENT OF
ALBERTA GUJARATI ASSOCIATION, EDMONTON,
WHILE HOSTING THE 2010 RAAS GARBA FESTIVAL...


The current Executive Members of Alberta Gujarati Association are proud to host the Edmonton 2010 Raas Garba Festival in Edmonton, Alberta, Canada. We plan to build on this success on the overwhelming success of the last festival staged at the Winspear Centre in 1998.

The festival consists of the Raas Garba Competition between various Western Canadian Cities, and other social events. This cosmopolitan event will provide an opportunity to all Western Canadian Gujarati to show case their rich heritage to the main stream society in an effort to enhance the mosaic of multiculturalism in Edmonton and Alberta. We have extended invitations to Vancouver, Calgary, Ft. McMurray, Regina, Winnipeg and Seattle.

Alberta Gujarati Association organizes programs of this nature to provide the population at large to sample the Gujarati culture within the multiculturalism canvas of Canada with its vibrant rainbow colours.

Mrs. Mrudula Mehta
President, 2009-10 Alberta Gujarati Association
(Mr. Mehta is one of the founding members of Alberta Gujarati Association in 1978)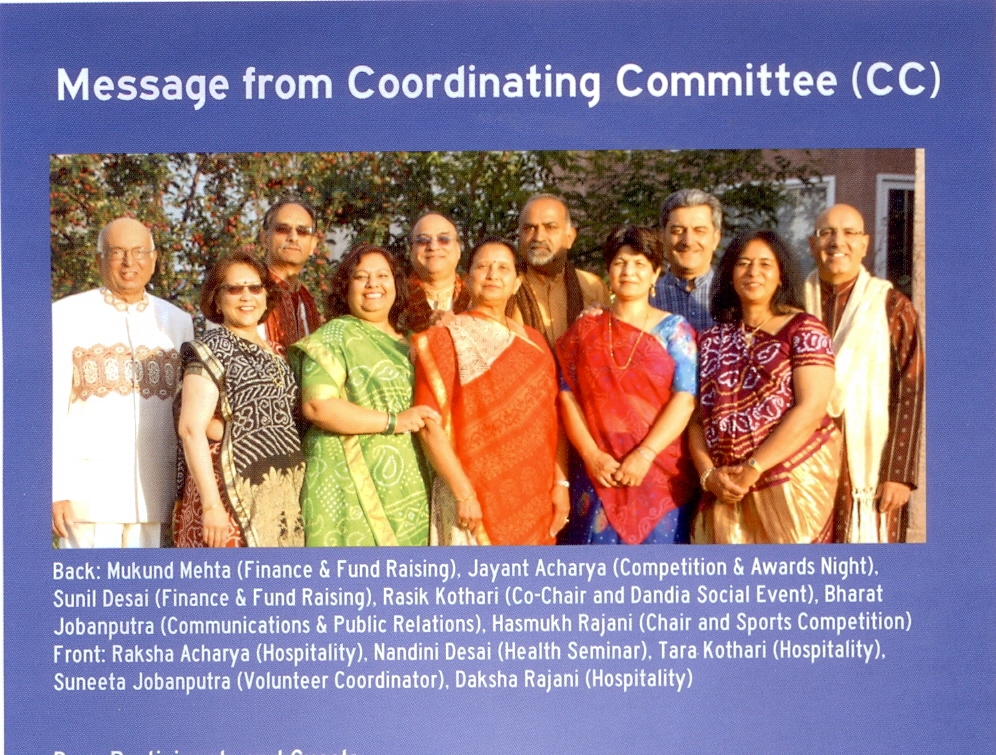 On behalf of the Raas Garba Coordinating Committee, under the authority of the Alberta Gujarati Association, I would like to extend a warm welcome to our sister Gujarati organizations across western Canada to the vibrant city of Edmonton.

Over the September long weekend we have organized a calendar full of exciting events to enhance the opportunity for social networking, an opportunity to compete in a number of friendly sporting events and taste the Gujarati culture.

In an effort to engage the youth in our cultural heritage we have arranged Dandia Raas. The highlight of the three-day Edmonton 2010 Raas Garba Festival will be the Raas Garba competition held at the Jubilee. This showcase event will expose our vibrant and colourful Gujarati cultural heritage to the population at large. The evening of the competition will culminate in a Gala Banquet dinner and dance, providing a final opportunity for the Gujarati families and the youth to celebrate the success of the event.

We look forward to the opportunity to host our guests across western Canada. Please take the opportunity to browse our website where information will be updated on a regular basis and feel free to contact us for any other information regarding the festival.r />
We look forward to your enthusiastic participation in the event.

Hasmukh Rajani
Chair, Coordinating Committee

.....Alberta Government gave a grant of $65,000 to
Alberta Gujarati Association
for hosting 2010 Raas Garba Festival in Edmonton.....



---


..THIS NEWS STORY WILL BE UDATED

AS MORE NEWS ON THE GUJARATI LIFESTYLE PROSPERING
IN THE CANADIAN MULTICULTURAL SOCIAL MOSAIC

IS AVAILABLE....
....This news story is a showcase of
Gujarat people`s own age-old human diversity and their multi-cultural lifestyles
not only in Canada but in almost all nations on this planet Earth
including their own homeland in Gujarat, India ....

...of a lesson in how diversity of different races and cultures can
harmoniously
co-exist
respecting other cultures
and
prospering in harmony with one and all

on this planet Earth
as propounded by world famous Mahatma Gandhi's
"LIVE AND LET LIVE"

(
2 October 1869 – 30 January 1948; born in Porbandar, Gujarat, India, and is often referred to as Mahatma Gandhi meaning mahatma or "Great Soul", and as Bapu or "Father". He is officially honoured in India as the Father of the Nation; his birthday is commemorated in India as Gandhi Jayanti, a national holiday, and worldwide as the International Day of Non-Violence)

Since the dawn of the known current human history

the Gujarati peoples have always
co-existed harmoniously and prosperously
....even accommodating as equal citizens
Moslems, Jews and Parsis from Middle East...

....and without the need for racial and cultural conflicts and violence /> which has plagued this Earth and
is still plaguing most of the today's Earth nations....


.....And now have an overview of r /> THE CITY OF EDMONTON
also called

"

CITY OF CHAMPIONS
" and
"

CITY OF FESTIVALS"

AND
PROVINCE OF ALBERTA
now proclaimed worldwide a

"THE SAUDI ARABIA OF CANADA"

.....to appreciate
the 1998 and 2010 Western Canada Raas Garba Festival
hosting by
Alberta Gujarati Association.....



The City of Edmonton is a 106-year old located on the North Saskatchewan River of about 1 million people and it surrounded by 3 communities, Sherwood Park, St. Albert and Stony Plain. The North Saskatchewan River originates at the Columbia Icefield in Jasper National Park and bisects the city. Edmonton being the capital of Alberta is cultural, governmental and educational centre. It plays host to a year-round slate of world-class festivals, earning it the title of

"The Festival City."

Among world class festivals, mid-August Edmonton International Fringe Festival,

is the largest fringe theatre festival in North America and second only to the

Edinburgh Fringe

Festival worldwide. Edmonton receives 2,299 hours of sunshine per year and is one of Canada's sunniest cities

.

Edmonton is the hub of Canada's sixth-largest census metropolitan area. It is one of the largest cities in North America in area at 684 km2 (264 sq miles). As per the 2006 census, Edmonton was 71.8% White and 5.3% Aboriginal and 22.9% visible minorities..Alberta services all the oil and gas developments in "http://en.wikipedia.org/wiki/Northern_Alberta"> northern Alberta/a> including the world's largest oil-sands development and also the two Canadian provinces of Northwest Territories and Nunavut. Alberta is oil rich province is the only province in Canada which has no provincial sales tax.

Edmonton has beautiful a river valley park system with bicycle routes and walkways, winter activities, Fort Edmonton Park, Canada's largest living history museum and has the world's largest mall till 2006, Valley Zoo , Royal Alberta Museum, Art Gallery of Alberta, planetarium, Alberta Aviation Museum. and now the North America's largest shopping and entertainment mall, West Edmonton Mall with Water Park, Children Theme Park, 800 stores and 100 restaurants, FantasyLand Hotel, dinner theater, casino and night club in 5.3 million square feet of floor space which generate over 28 million visits.

Edmonton has earned the title of "City Of Champions" with world class sports and recreation facilities and with 7 Stanley Cup National Hockey League (USA+Canada) wins by Edmonton Oilers Hockey Team and thirteen times, including an unmatched five consecutive wins between 1978 and 1982 Grey Cup win in Canadian Football League by Edmonton Eskimos Football team, Edmonton Oilers, Edmonton Trappers, and Edmonton Oil Kings. Having won so many championships, the city .

Edmonton has the best 1-12 grade public school system in North America. It has a 36,000 student University of Alberta (western Canada's largest university) with all major faculties, a 40,791 students Grant MacEwan University offering career diplomas, university transfers, and bachelor's degrees, Canada's first on-line Athabasca University, Concordia University College of Alberta, The King's University College, Taylor University College and Seminary, the 48,500 students Northern Alberta Institute of Technology (NAIT), offering technical-trade diplomas, information technology degree, vocational, and apprenticeship trade certificates, the 11,300 student NorQuest College specializing in short courses in skills and academic upgrading, and the Antarctic Institute of Canada.

Global experts have ranked Edmonton as having one of the best potentials for economic investment in the world with cost-competitiveness, industries, socio-economic outlook, population, geography, land use, and housing and a international airport. Major industrial sectors include world class health care system under the administration of Alberta Health Services and anchored on The University of Alberta Hospital, including the Stollery Children's Hospital with world class medical teaching and research departments in diabetics, cardiovascular diseases and pediatrics, and has a strong technology sector anchored by major employers such as IBM, Telus, Intuit Canada, Canadian Western Bank, BioWare, Matrikon, General Electric, and Stantec Inc. The associated biotech sector, with companies such as Afexa Life Sciences Inc. (formerly CV Technologies). Research initiatives are anchored by educational institutions such as the University of Alberta as well as government initiatives underway at the Alberta Research Council and Edmonton Research Park. Recently, the National Institute for Nanotechnology w was constructed on the University of Alberta campus and Canada's western military base with training for Canadian and NATO partners.

The Canadian Province of Alberta with land area of 661,848 square kilometres (255,500 sq mi), an area about 5% smaller than Texas, USA or 20% larger than metropolitan France has a population of about 3.7 million. The 2006 census found Alberta to be multi-cultural with English, with 2,576,670 native speakers, was the most common mother tongue of Albertans, representing 79.99% of the province's population. The next most common mother tongues were various Chinese languages with 97,275 native speakers (3.02%), followed by German with 84,505 native speakers (2.62%) and French with 61,225 (1.90%). Other mother tongues (in decreasing order) include: Punjabi, with 36,320 native speakers (1.13%); Tagalog, with 29,740 (0.92%); Ukrainian, with 29,455 (0.91%); Spanish, with 29,125 (0.90%); Polish, with 21,990 (0.68%); Arabic, with 20,495 (0.64%); Dutch, with 19,980 (0.62%); and Vietnamese, with 19,350 (0.60%). The most common aboriginal language is Cree 17,215 (0.53%). Other common mother tongues include Italian with 13,095 speakers (0.41%); Urdu with 11,275 (0.35%); and Korean with 10,845 (0.33%); Hindi 8,985 (0.28%); Persian 7,700 (0.24%); Portuguese 7,205 (0.22%); and Hungarian 6,770 (0.21%).


Alberta's economy with a GDP of C$291 billion is one of the strongest in Canada, supported by the burgeoning petroleum industry and to a lesser extent, agriculture and technology. The per capita GDP of Alberta by far the highest of any province in Canada at C$81,000. This was 61% higher than the national average of C$46,441 and more than twice that of some of the Atlantic provinces. In 2006 the deviation from the national average was the largest for any province in Canadian history. According to the 2006 census, the median annual family income after taxes was $70,986 in Alberta (compared to $60,270 in Canada as a whole).

Alberta is the largest producer of conventional crude oil, synthetic crude, natural gas and gas products in the country. Alberta is the world's 2nd largest exporter of natural gas and the 4th largest producer. Two of the largest producers of petrochemicals in North America are located in central and north central Alberta. In both Red Deer and Edmonton, world class polyethylene and vinyl manufacturers produce products shipped all over the world, and Edmonton's oil refineries provide the raw materials for a large petrochemical industry to the east of Edmonton.

The Athabasca Oil Sands have estimated unconventional oil reserves approximately equal to the conventional oil reserves of the rest of the world, estimated to be 1.6 trillion barrels (254 km³). With the development of new extraction methods such as steam assisted gravity drainage, which was developed in Alberta, bitumen and synthetic crude oil can be produced at costs close to those of conventional crude. Many companies employ both conventional strip mining and non-conventional in situ methods to extract the bitumen from the oil sands. With current technology and at current prices, about 315 billion barrels (50 km³) of bitumen are recoverable. Fort McMurray, one of Canada's fastest growing cities, has grown enormously in recent years because of the large corporations which have taken on the task of oil production. As of late 2006 there were over $100 billion in oil sands projects under construction or in the planning stages in northeastern Alberta.[37]



There are 0 additional comments.
Send your news items to be posted to news@prajapati-samaj.ca.