.....USA ARMED FORCES FOUND AND KILLED
THE WORLD INFAMOUS OSAMA bin LADEN
AFTER CHASING HIM
AROUND THE WORLD SINCE 1998...

.......Behind the scenes NEWS SHARING of
THE MOST WANTED WORLD TERRORIST

osama
bin
Laden
's

killing BY USA NAVY SEALS
EARLY DAWN OF MAY 2, 2011.....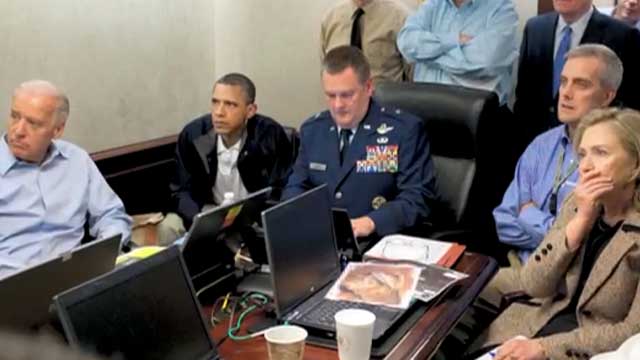 CNN
oNLINE
Top U.S. leaders, including USA President, Vice President, Secretary of State and Secretary of Defense watch real-time live on-site video feed from the USA mission that killed Osama bin Laden,
a Saudi Arab national and the leader of al-Qaeda Terrorist Organization from about 1998.
Canadian Globe&Mail
for Video click below

PVAF is sharing the above news with a prayer that.... what very wealthy Osama bin Laden and his al-Qaeda organization started out of his personal hatred from his ignorance of Creation's preferred lifestyle of harmonious co-existence and co-dependence ...and which has costs trillions of dollars and many precious and innocent human lives... and the hatred and violence festered out of the same human ignorance which continues to take the toll even today...will come to an end sooner than thought...saving the continuing loss to human well-fare and well-being around the globe with a lesson to our entire humanity that hatred and violence breeds more hatred and more violence...compared to resolving human differences with non-violence and non-hatred option based on universal belief among the entire diversity of humanity's cultures and lifestyles that harmonious co-existence is the Creator's way for humankind's evolution to prosperity of one's wish, need and desire....

Please click on the next line to watch the videos of the news on the firefight of the USA Navy Seals that lead to the killing of Osama bin Laden who had a part in the innocent murders of anywhere between 80,000 and 1.2 million mostly Muslim peoples around the world including attack on Twin Tower Attack in New York, USA on September 11, 2001 in over a decade after Osama bin Laden declared war on USA through his Afghanistan-Pakistan based al-Qaeda terrorist organization around 1998.....
---
....SCROLL ON TO KNOW
THEPRAYFULLY WORLD PEACE CREATING
"OPERATION GERONIMO".....
The hunt for Osama bin Laden that went on for almost a decade led to a final mission that was completed in a matter of minutes. But how? The mission utilized specialized troops, heavy government coordination and extreme precision. Go behind the scenes of this tactical operation in today's Gotta Watch following videos....

Night of the killing- What really happened the night the U.S. killed Osama bin Laden? Pentagon correspondent Chris Lawrence takes a close look at the operation that took down one of the world's most elusive and feared terrorist leaders.

When did they know? – The President kept his poker face as other events took place during the days leading up to the successful killing of Osama bin Laden. Senior White House correspondent Ed Henry breaks down the mission from start to finish, showing what was really going on behind closed doors in the White House.

Who are the men of Team Six? – An elite Navy Seal group was hand picked to tackle bin Laden's capture. But just who are the men of Team Six? Learn about this group of highly intelligent men and what it takes to be part of this team.

......PLEASE CLICK
HERE

to watch the CNN video of the above topics....
&
.....YOU CAN ALSO KEEP ON
READING THE COMPLETE ACCOUNT OF
OPERATION GERONIMO
TOGETHER WITH HOURLY/DAILY UPDATES ON
ON WIKIPEDIA by clicking

here

....



Wikipedia


....This is waht Abbotabad, Pakistan looked like to the USA Navy Forces during the early dawn mission Osama bin Laden...
Wikipedia
CIA aerial photo of the compound and the house in which Osama bin Laden was killed by USA Operation Geronimo on May 2, 2011 dawn.
Wikipedia
This diagram of Osama bin Laden's hideout shows the 10 to 18 feet high concrete walls that surrounded the compound of Osama bin Laden's fortified house attached by USA Operation Geronimo on May 2, 2011.
There are 0 additional comments.
Send your news items to be posted to news@prajapati-samaj.ca.