SHANTI PAATH for  late Shri Chhaganbhai Manilal Mistry scheduled for Sunday, 25th  March 2001 at Shree Prajapati Samaj, Ulverscroft Road, Leicester. Shanti Paath will start at 10.00 am.   
Leicester SPA (UK) site has compiled a shradhanjali both in English and Gujarati. Please visit the site Shree Prajapati Association (UK)and update yourself. Shri Chhaganbhai M Mistry was a long time sevak and secretary of Shree Prajapati Association  (UK).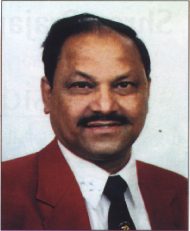 Shri Chhaganbhai Manilal Mistry (of Gunasvel, India), residing in Liecester, passed away suddenly on Thursday February 15, 2001 at his home as a result of heart failure. He was 59 years old and was to celebrate his 60th birthday on 12 March 12, 2001. 

Shri Chhaganbhai is survived by his wife Shrimati Kantaben and two daughters Shrimati Kala and Shrimati Ella and a son Shri Sandip.
With kind regards, OM Shanti..Shanti.. Shanti........
Manharbhai.