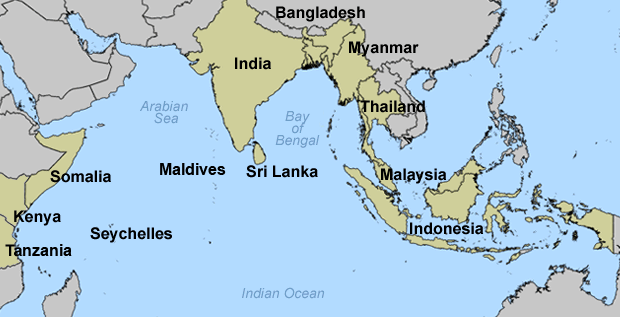 CNN Map of nations affected by Sumatra earthquake-tsunami
DECEMBER 26, 2004: PLANET EARTH
SHAKEN, STIRRED AND RUN OVER BY
SUMATRA INDIAN OCEAN EARTHQUAKE-TSUNAMI:
DAY 6 REPORT AS OF JANUARY 1, 2005
HISTORY OF SUMATRA EARTHQUAKE:
EFFECT OF MASSIVE ENERGY RELEASE OF SUMATRA EARTHQUAKE ON PLANET EARTH:
Please click on the above to access and review reports to December 31, 2004
AID TO SUMATRA EARTHQUAKE-TSUNAMI VICTIMS & RECONSTRUCTION:
TOTAL WORLD AID PLEDGED ( Jan 1/05): US$2.0 BILLION & growing

U.S. military helicopters January 1, 2005 dropped relief supplies into parts of Indonesia's hard-hit Aceh province virtually cut off from the rest of the world for nearly a week after a powerful earthquake and subsequent tsunamis claimed 80,000 lives in Indonesia.

The office of the United Nations High Commissioner for Refugees said it would begin an emergency airlift on Sunday, January 2, 2005 to Indonesia that should get 400 tons of supplies to 100,000 people in Aceh province.

Indonesia says it has set a goal of rehabilitating within one year the survivors of last Sunday's devastating earthquake and tsunami in its northern Sumatra province of Aceh. In addition to the immediate human cost, he said rebuilding infrastructure in the province alone could take a year and cost about 1.5 trillion rupiah ($160 million), Antara reported.

United States has created a support center in Thailand and that 20 aircraft were dispatched to "assess the disaster and deliver relief supplies."

Indian Navy with 20 ships including a floating hospital ship is taking supplies worth $25 million to Sri Lanka.

Germany urged revelers to donate some of the 100 million euros ($136 million) they would normally spend on fireworks, a call repeated across Europe.

UNICEF organization's teams in the region still "have to get a handle" on the survival needs. They have begun distributing tablets that mix with water and help cure diarrhea -- which he called the number one cause of preventable death among children after such disasters. Aid groups will work to reconnect young people with extended family members or others who can take care of them, and will bring them together with other children.

The Center for International Disaster Information explains on its Web site that "financial contributions allow professional relief organizations to purchase exactly what disaster victims need most urgently and to pay for the transportation necessary to distribute those supplies." The Web site, cidi.org, provides a list of agencies working to aid victims of the tsunamis, along with contact information.

Obstacles -- including a lack of coordination, fuel shortages, rough weather, airport logjams and impassable roads -- have prevented the distribution of aid to some of the most devastated areas in the 11 Asian and African nations affected by a magnitude 9 earthquake and resulting tsunamis.
GODS INTERVENTION = LIFE MIRACLES AT SUMATRA EARTHQUAKE-TSUNAMI DISASTER:
PORT BLAIR, Andaman and Nicobar Islands (AP):

In her frantic flight from the killer tsunami waves swallowing up her island, Namita Roy found refuge in a forest. There at 4.19 am December 27, 2004 she gave birth to a boy who would be named Tsunami.

On another island, 8-month-old Michael Jeremiah slipped out of his mother's arms and sank into the sea until his father saw his toe poke up from the waves and brought him back to life.

Galle, Sri Lanka: Screaming with fear, paralyzed children at a shelter for the physically disabled and mentally ill, lay helplessly in their beds as seawater surged around them. The tsunami roared in on the day after Christmas. Some of the desperate children gripped the rafters as the water rose inside the one-story Sambodhi shelter. Others floated away on mattresses to their deaths, according to witnesses. Just 41 of the 102 residents of the home survived, caretaker Kumar Deshapriya said Saturday.

Sri Lanka:

One man said when the waves hit he took shelter in a tree, clinging to branches for days as the water remained high. He eventually fell down, fracturing a leg. He counts himself among the lucky ones; he was reunited with his family.

Others in the shelters recounted having been in their boats in the harbor when the tsunami struck, saying they were tossed around like toys, but miraculously did not drown.

On December 26, two sisters with their families shared a traditional Sri Lankan breakfast of rice and dal, or spiced legumes.
Hours later they watched their husbands drown saving their children." When the second wave came, we were looking for our son, and my husband went out to search for him and found him in a tree," Mariana Francis, 39, recounted. "He rescued him, and both of them were running for their lives. Later, my son was found alive, but my husband was missing." The two sisters charged to safety as they lost everything within 20 minutes.

Inmates of one of India's largest correctional facilities, the Tihar jail, collected close to $1,675 to donate to the Prime Minister's National Relief Fund on Tuesday. The jail's staff also contributed their day's salary.



College students distribute emergency rice rations Tuesday in Woollapalem, Thailand.
GIVE GENEROUSLY TO
THOSE SUFFERING

---
MAY DEPARTED SOULS
REST IN PEACE
.....om shaanti shaanti shaanti....
(M.A. Pushpa Kumara/European Pressphoto Agency)
A 10-year-old Sri Lankan girl lit a candle today to remember the victims of the tsunami.
CNN: Annal Mary kisses her infant who was found floating on a mattress after the tsunamis.
---
HUMAN SUFFERING
svARgsth (Dead): 150,000+
Injured: 500,000
Homeless: 1.5 million
Total Humans Affected: 5 million
INDONESIA: 80,000+
SRI LANKA: 45,000+
South INDIA: 12,000+
NICOBAR ISLAND (India): 8,000+
THAILAND: 8,000+ (Half tourists)
BURMA: 100+
MALDIVES: 46 + 70 +missing
Africa 4,500 kilometers (2,800 miles) away:

SOMALIA (Africa): 100
TANZANIA: 10
SEYCHELLES ISLANDS: 3
KENYA: 1

2,200 foreign tourists dead & 7,000 missing.

---
Displaced residents of Nagappattinam take shelter in Thiruvarur the day after tsunamis struck southern
More than 1.7 million people will have to be fed for months, says the UN