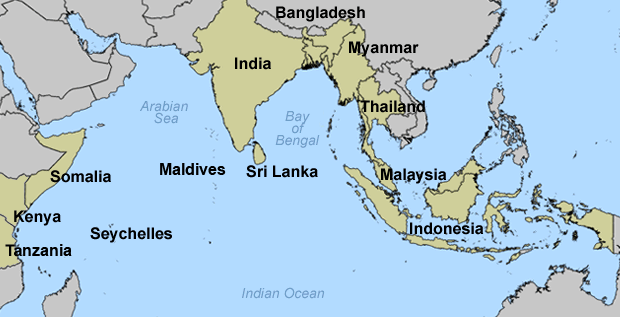 CNN Map of nations affected by Sumatra earthquake-tsunami
DECEMBER 26, 2004: PLANET EARTH
SHAKEN, STIRRED AND RUN OVER BY
SUMATRA INDIAN OCEAN EARTHQUAKE-TSUNAMI:
DAY 16 REPORT AS OF JANUARY 10, 2005
HISTORY OF SUMATRA EARTHQUAKE:
EFFECT OF MASSIVE ENERGY RELEASE OF SUMATRA EARTHQUAKE ON PLANET EARTH:
Please click on the above to access and review reports to December 31, 2004
AID TO SUMATRA EARTHQUAKE-TSUNAMI VICTIMS & RECONSTRUCTION:
TOTAL WORLD AID PLEDGED ( Jan 1/05): US$4.0 BILLION & growing.

Indonesia warned aid workers that separatist rebels have taken shelter in camps for survivors and a burst of violence between Christians and Hindus hit Sri Lanka, signaling a potential resurgence of long-simmering rebellions in both tsunami-hit countries that could hamper help for victims of the two-week-old disaster.
RESULT OF SUMATRA EARTHQUAKE-TSUNAMI DISASTER ON DECEMBER 26, 2004:
Sumatra has accounted for about two-thirds of the 155,000 people known to have died in the December 26 earthquake and tsunami that ravaged 11 countries in Asia and Africa. In Banda Aceh alone, 40,000 people were killed and many more were left homeless and traumatized after giant waves tore through the city.

Banda Aceh, January 10, 2005|10:07 Indian Standard Time: A strong earthquake shook buildings and sent people scrambling from their homes early on Monday in Banda Aceh, an Indonesian city devastated by the massive quake and tsunami two weeks ago. There were no immediate reports of injuries or damage from the temblor, which the US Geological Survey's website said struck off the northern coast of Sumatra Island at 5:13 am. The magnitude 6.2 quake was centered at a depth of about 14 kilometres (8.9 miles) under the seabed in the Indian Ocean, about 60 kilometres (40 miles) southwest of Banda Aceh, the USGS said.

YOUR CONTRIBUTION TO HELP
WILL ONLY BE YOUR s`vDHARm
TO YOUR FELLOW HUMANS
WHO ARE LESS FORTUNATE VICTIMS OF
THE SUMATRA EARTHQUAKE-TSUNAMI......
More than 1.7 million people will have to be fed for months, says the UN

GIVE GENEROUSLY TO
THOSE SUFFERING

---
MAY DEPARTED SOULS
REST IN PEACE
.....om shaanti shaanti shaanti....
(M.A. Pushpa Kumara/European Pressphoto Agency)
A 10-year-old Sri Lankan girl lit a candle today to remember the victims of the tsunami.
CNN: Annal Mary kisses her infant who was found floating on a mattress after the tsunamis.
---
HUMAN SUFFERING
svARgsth (Dead): 155,000+
Injured: 500,000
Homeless: 1.5 million
Total Humans Affected: 5 million
INDONESIA: 102,000+
SRI LANKA: 45,000+
South INDIA: 12,000+
NICOBAR ISLAND (India): 8,000+
THAILAND: 8,000+ (Half tourists)
BURMA: 100+
MALDIVES: 46 + 70 +missing
Africa 4,500 kilometers (2,800 miles) away:

SOMALIA (Africa): 100
TANZANIA: 10
SEYCHELLES ISLANDS: 3
KENYA: 1

2,200 foreign tourists dead & 7,000 missing.

---
AP / Wide World Photo
Suffering the loss of loved ones and property in Sri Lanka