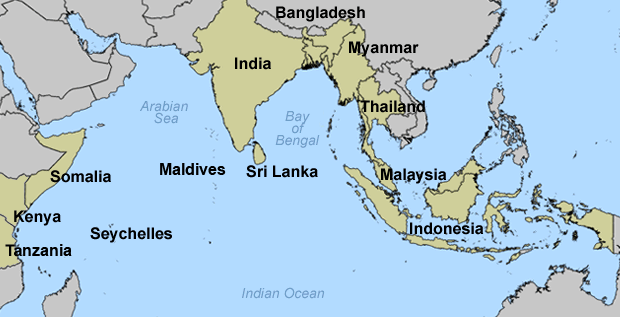 CNN Map of nations affected by Sumatra earthquake-tsunami
DECEMBER 26, 2004: PLANET EARTH
SHAKEN, STIRRED AND RUN OVER BY
SUMATRA INDIAN OCEAN EARTHQUAKE-TSUNAMI:
DAY 20 REPORT AS OF JANUARY 14, 2005
HISTORY OF SUMATRA EARTHQUAKE:
EFFECT OF MASSIVE ENERGY RELEASE OF SUMATRA EARTHQUAKE ON PLANET EARTH:
Please click on the above to access and review reports to December 31, 2004
AID TO SUMATRA EARTHQUAKE-TSUNAMI VICTIMS & RECONSTRUCTION:
TOTAL WORLD AID PLEDGED ( Jan 1/05): US$4.0 BILLION & growing.

United Nations says it has $717 million of the $1billion it requested -- to use immediately for tsunami relief and includes more than $200 million for housing and shelter, a similar amount for food and more than $120 million for health services for six months. Much of the aid will be spread out over years and U.N. agencies like the U.N. Children's Fund (UNICEF), the World Food Program (WFP) and the World Health Organization (WHO) need money fast to feed the hundreds of thousands left homeless and prevent disease.

Indonesia, meanwhile, said it is pursuing a permanent truce with rebels in the area, the worst-hit by the disaster so that world-wide aid could reach all affected. Indonesian government is working on a full truce with rebels who have been fighting off and on for an independent homeland in northern Sumatra for 30 years.

"In Sri Lanka, more than 25,000 people displaced by the Dec. 26 tsunami left relief camps in the past 24 hours as of January 14, 2004 to return to rebuild their villages. Some want to return because their houses were partially damaged and some want to return to where their house was to be sure that they are recognized" as the owner, said Neil Wright, an official with the UN's High Commissioner for Refugees.

The Sri Lankan government discourages foreign officials from going to Tamil-controlled areas, fearing it will lend legitimacy to Tamil claims for independence. Tamil Liberation Tigers rebels have been fighting a 20-year civil war with Sinhalese-dominated government forces for a separate southern state and are presently are hampering distribution of aid.

The world's wealthiest nations of The Paris Club of 19 creditor nations said it was willing to freeze payments until the end of 2005, depending on assessments from the World Bank and the International Monetary Fund, which would monitor the countries to make sure that the money was being used for tsunami relief. Indonesia will receive the biggest benefit from the moratorium -- its payments, without the freeze, would be $3 billion this year.

Finance ministers from the wealthy G7 nations have already agreed to a debt freeze for all tsunami nations. The G7 comprises the United States, Japan, Germany, Britain, France, Italy and Canada.

India says it is now willing to accept foreign aid to help rebuild from the Sumatra tsunami disaster.

Tsunami-wracked Asia has a new appeal to would-be helpers: Take a vacation. If you have not planned a visit, please consider booking a trip. If you wish to make a difference, visit," said the president of the Bangkok-based Pacific Asia Travel Association. "The trend is again more people coming in. Now it's just a matter of getting the right message out to the visitors," said government spokesman for the Maldives, where the $200 million tourism industry constitutes 33 percent of the country's gross national product. In Sri Lanka, the tsunami damaged 56 hotels badly enough to force their closure. Yet 243 remain open and "ready to welcome tourists.
RESULT OF SUMATRA EARTHQUAKE-TSUNAMI DISASTER ON DECEMBER 26, 2004:
Banda Aceh, Indonesia — Masked workers with mosquito-killing spray guns began moving through refugee camps Friday in tsunami-battered Aceh province, trying to prevent an outbreak of malaria. 100,000 more people could die of malaria around Aceh if quick action is not taken. A successful spraying effort would drastically minimize that risk.

While the threat of cholera and dysentery is diminishing because clean water is reaching tsunami survivors in Indonesia, the danger of malaria and dengue fever epidemics is increasing, according to the leader of anti-malaria efforts in the region.

Indonesia's most influential group of Islamic clerics, meanwhile, warned January 14, 2004 of a widespread Muslim backlash if international aid groups involved in relief efforts in tsunami-battered Aceh province begin proselytizing and adopting children orphaned from the Sumatra tsunami disaster.

YOUR CONTRIBUTION TO HELP
WILL ONLY BE YOUR s`vDHARm
TO YOUR FELLOW HUMANS
WHO ARE LESS FORTUNATE VICTIMS OF
THE SUMATRA EARTHQUAKE-TSUNAMI......
More than 1.7 million people will have to be fed for months, says the UN

GIVE GENEROUSLY TO
THOSE SUFFERING

---
MAY DEPARTED SOULS
REST IN PEACE
.....om shaanti shaanti shaanti....
(M.A. Pushpa Kumara/European Pressphoto Agency)
A 10-year-old Sri Lankan girl lit a candle today to remember the victims of the tsunami.
CNN: Annal Mary kisses her infant who was found floating on a mattress after the tsunamis.
---
HUMAN SUFFERING
svARgsth (Dead): 160,000+
1/3 dead are children
Injured: 500,000
Homeless: 1.5 million
Total Humans Devastated: 5 million
Indonesia: 110,229
Sri Lanka: 30,920
India: 10,672 + 5700 missing
Thailand: 5,291+3400 missing
Somalia: 298
Myanmar: 90
Maldives: 82
Malaysia: 68
Tanzania: 10
Bangladesh: 2
Kenya: 1
Foreigner tourists: 445 dead + 3,000 missing.
Homeless:
Sri Lanka: 800,000 + 425,000 in refugee camps.
India: 55,00 in refugee camps

---
AP / Wide World Photo
Suffering the loss of loved ones and property in Sri Lanka