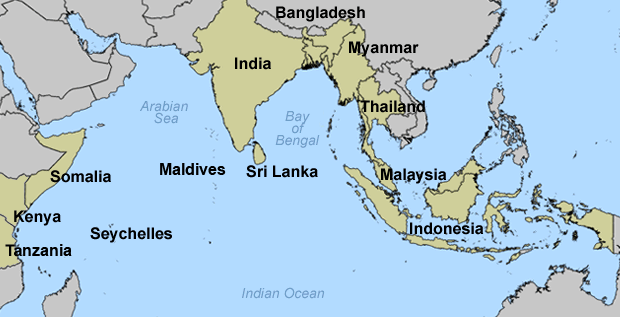 CNN Map of nations affected by Sumatra earthquake-tsunami
DECEMBER 26, 2004: PLANET EARTH
SHAKEN, STIRRED AND RUN OVER BY
SUMATRA INDIAN OCEAN EARTHQUAKE-TSUNAMI:
DAY 34 REPORT AS OF JANUARY 30, 2005:
DEAD & MISSING = 300,000
1. PVAF REPORT: HISTORY & EFFECT OF SUMATRA EARTHQUAKE & TSUNAMI:
2. WIKIPEDIA REPORT: THE STORY OF SUMATRA EARTHQUAKE & TSUNAMI
3. LATEST NEWS ON SUMATRA EARTHQUAKE & TSUNAMI
Please click on the above to access and review reports
AID TO SUMATRA EARTHQUAKE-TSUNAMI VICTIMS & RECONSTRUCTION:
TOTAL WORLD AID PLEDGED ( Jan 30/05): US$5.0 BILLION & growing.

French construction giant Lafarge SA, the world's largest cement supplier, said it would spend "tens of millions of dollars" to rebuild an Aceh cement factory damaged by the tsunami. "There is a lot of money coming in for the reconstruction, and naturally cement will be needed for that," Tom Ehrart, the head of Lafarge Indonesia, told The Associated Press.

Austria said it would send a team of experts to Sri Lanka to help rebuild the rail system, which was badly damaged. The victims in Sri Lanka included about 800 people killed when a train was swept off the tracks while traveling along the coastline.

A Russian Il-76 cargo plane carried 30 tons of flour and eight diesel-powered generators to Sri Lanka. Russia has delivered 528 tons of supplies in 23 aid flights to the tsunami zone, Emergency Situations Ministry spokesman Viktor Beltsov told the ITAR-Tass news agency.

Thailand's government is planning a tsunami museum to chronicle the plight of survivors and changes to the environment from the waves, the Thai News Agency said. Photographs, video, satellite images and interviews with survivors already have been collected, it said
RESULT OF SUMATRA EARTHQUAKE-TSUNAMI DISASTER ON DECEMBER 26, 2004:
TSUNAMI EARLY WARNING SYSTEM: Delegates from 43 countries meeting in Thailand yesterday agreed to set up a regional early warning system that might prevent such a massive loss of life in the future. After two days of talks, delegates had been unable to agree on where to base the new network or how to fund it. Now the UN is to co-ordinate a tsunami alert system in the Indian Ocean similar to the established one in the Pacific Ocean. The aim is for the expanded warning system to be operable within a year and to keep costs to US$30m (£16m).

CHRISTIANITY IN INDONESIA: Indonesia's most influential group of Islamic clerics, meanwhile, warned January 14, 2004 of a widespread Muslim backlash if international aid groups involved in relief efforts in tsunami-battered Aceh province begin proselytizing and adopting children orphaned from the Sumatra tsunami disaster....and NOW IN INDIA.....

CHRISTIANITY'S Conversion Attempts: NAGAPATTINAM, INDIA, January 24, 2005: Rediff reporter Shobha Warrier:

"When I entered one of the rows of temporary shelters built for tsunami victims in Pattancherry village in Nagapattinam I witnessed a minor scuffle in a corner. Some inmates had surrounded a Christian priest and two nuns, and a war of words was going on. "We are Hindus and we want to live as Hindus. Why do you want to convert us?" some young men shouted at the missionaries. The priest said, "We are not here to convert people. We were only offering prayers for your peace of mind." But flashing some pamphlets distributed among them by the three, the inmates snorted, "What does this mean?" The priest had no answer. "Why do you enter our houses and pray?," they asked. "Your nuns do this when our women are alone at home. We know how to pray." The young men were extremely furious. The priest was unruffled. But the nuns were shaken by the sudden surge of animosity from the muscular men. The scuffle went on till the three were forced to leave the place.

Day two: As I was visiting the areas close to the sea that were badly affected by the tsunami waves, I saw another angry scene outside another temple in another village. Police jeeps were seen parked outside the temple in Samandapettai. So was a van. Villagers were complaining to the police about a missionary group to which the van belonged. They said the group had taken away to another place their belongings and the relief they had got from nongovernmental organizations and the government, which they had kept inside the temple, because they refused to listen to its missionaries. "They want to try their luck at some other place. Since we resisted, they took away our things. We won't allow this to happen," they said. "Why don't you arrest all of them?" the villagers asked the police. The villagers' torrent of angry words continued. "We have lost everything to the sea. They said they would help us if we followed their religion. What logic is this? Are they here to help us or change our religion?" The police couldn't cool their tempers. The group said it did not take away the belongings of the villagers and insisted that the contents inside the van belonged to it. That evening, some villagers came with the news that the police had arrested the priest they had confronted the previous day. Apparently some angry villagers had gheraoed (encircled) him, and forced the police to arrest him. "He shouldn't be doing this when we are grieving, when we are suffering. Everything has its time and place," a villager said. When I wanted to talk to the panchayat president and locals of the Karakkalmedu village at Karaikkal, they called me inside the village temple. That was where they met outsiders. The temple has become the centre of activity in the village. Before we started talking, one of them opened the door to the sanctum sanctorum and pointed to a mark left by the strong tsunami waves. They told me that water stopped at the feet of their Deity and then receded. "We might have suffered, but our Goddess saved us." This belief had taken the villagers all the more closer to their Deity. "That is why it hurts us when others come and tell us that it was because of our God and our belief that we suffered. We won't let anyone exploit us when we are down," the panchayat members asserted.
YOUR CONTRIBUTION TO HELP
WILL ONLY BE YOUR s`vDHARm
TO YOUR FELLOW HUMANS
WHO ARE LESS FORTUNATE VICTIMS OF
THE SUMATRA EARTHQUAKE-TSUNAMI......
RETURNING TO LIFE....AMID DISASTER CHAOS
Acehnese couple Sukmadi (L), 36, and his bride Lidya Nurhayati, 25, feed each other during a wedding ceremony in the tsunami-devastated city of Banda Aceh on the Indonesian island of Sumatra on January 30, 2005. The marriage was the first wedding celebration in the city since last December 26 when the Indian Ocean tsunami changed their original wedding plans. The newly-wed couple was on their way to the grand mosque in Banda Aceh when the great quake and tsunamis slammed most parts of this bustling city on December 26. Photo by Kimimasa Mayama/Reuters
---
GIVE GENEROUSLY TO
THOSE SUFFERING
More than 1.7 million people will have to be fed for months, says the UN
---
MAY DEPARTED SOULS
REST IN PEACE
.....om shaanti shaanti shaanti....
(M.A. Pushpa Kumara/European Pressphoto Agency)
A 10-year-old Sri Lankan girl lit a candle today to remember the victims of the tsunami.
---
HUMAN SUFFERING
svARgsth (Dead): 178,000+
1/3 dead are children
MISSING: 26,000 to 142,000
Injured: 500,000
Homeless: 1.5 million
Sri Lanka: 800,000 + 425,000 in refugee camps.
India: 55,00 in refugee camps
Total Humans Devastated: 5 million
Indonesia: 110,229
Sri Lanka: 30,920
India: 10,672 + 5700 missing
Thailand: 5,291+3400 missing
Somalia: 298
Myanmar: 90
Maldives: 82
Malaysia: 68
Tanzania: 10
Bangladesh: 2
Kenya: 1
Foreigner tourists: 445 dead + 3,000 missing.
---
HEALERS AMID DISASTER
Salisbury's Michael Finegan, addressing tsunami survivors in Sri Lanka, distributes coloring books intended to help children express their grief. Finegan wants to stay right here. But in this district alone, some 10,000 children have lost family. He has a program to construct, volunteers to train. (Peter S. Goodman -- The Washington Post)
---
GALLE, Sri Lanka - The villagers come running when they see Dr. Chamal Mahanama pull up in a three-wheeler to administer his version of disaster relief — this one aimed at the four-legged survivors. Standing in line with their pet dogs, cats, rabbits, and even the odd monkey, they wait patiently as the veterinarian deftly swabs a furry rump with alcohol before quickly injecting the vaccines — the first for rabies, the second for distemper, hepatitis and leptospirosis.