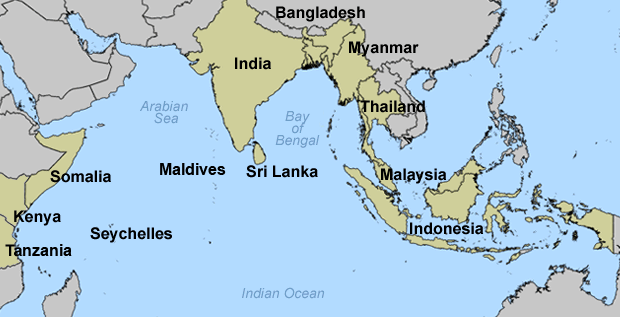 CNN Map of nations affected by Sumatra earthquake-tsunami
DECEMBER 26, 2004: PLANET EARTH
SHAKEN, STIRRED AND RUN OVER BY
SUMATRA INDIAN OCEAN EARTHQUAKE-TSUNAMI:
DAY 44 REPORT AS OF FEBRUARY 9, 2005:

FOUND MORE DEAD & MISSING = 538,000
1. PVAF REPORT: HISTORY & EFFECT OF SUMATRA EARTHQUAKE & TSUNAMI:
2. WIKIPEDIA REPORT: THE STORY OF SUMATRA EARTHQUAKE & TSUNAMI
3. LATEST NEWS ON SUMATRA EARTHQUAKE & TSUNAMI
Please click on the above to access and review reports
AID TO SUMATRA TSUNAMI VICTIMS & RECONSTRUCTION:
TOTAL WORLD AID PLEDGED ( Jan 30/05): US$5.0 BILLION & growing.

Nations have pledged $977 million, but only $360 million has reached the world body's coffers, said Margareta Wahlstrom, special envoy of U.N. Secretary-General Kofi Annan. "This is our key message to government donors: Please convert your pledges into hard cash in the bank. It's only cash in the bank that makes it possible to do work on the ground," she said Monday in Geneva

Although the United Nations is not short of funds to maintain its humanitarian relief operations, it warned that money is still needed in the long run for reconstruction.

In Sri Lanka, corruption was hampering aid operations. Officials have been accused of plundering relief supplies, demanding bribes from tsunami victims, and being drunk on duty. Several people were suspended last week, with others under investigation. The U.N. World Food Program will soon dispatch more food aid monitors to try to "abolish any corruption within the government system," coordinator Dawit Getachew said.

In Indonesia's Aceh province, security concerns prompted U.N. officials to consider relocating the base for the massive international relief effort there. Joel Boutroue, U.N. deputy humanitarian coordinator, said the United Nations "does not expect to be a target" of an attack. But he said the walled compound in Banda Aceh, where 100 aid workers live and work, had "structural weaknesses" and "is not optimal ... from a security perspective."
AFTERMATH OF SUMATRA TSUNAMI DISASTER:
A strong 6.2-magnitude tremor struck around 8.27pm (0027 AEDT), February 10, 2005 Indonesia's tsunami-ravaged Aceh province, swaying buildings and causing some panicky residents to flee their homes. The earthquake was centered beneath the Indian Ocean floor, about 107km southwest of the provincial capital of Banda Aceh, the Banda Aceh Geophysics Center said. There were no immediate reports of injuries or damage. The shaking, which lasted less than five seconds, was felt across a wide swathe of Aceh, on the northern tip of Sumatra island. Some people in Banda Aceh briefly ran out of their homes until the tremors subsided.


New minor earthquakes rattled the region early Tuesday, February 8, 2005, but there were no reports of damage or injury. Temblors were felt in Taiwan and Papua New Guinea, which were unaffected by the disaster.

The Sumatra earthquake that triggered the devastating Indian Ocean tsunami was the second largest on record, it was revealed on February 8, 2005. Professors Seth Stein and Emile Okal, from Northwestern University in Chicago, found that the earthquake's magnitude measured 9.3, not nine as was earlier estimated. This made it the second largest earthquake seismically recorded after a 9.5 magnitude quake that hit Chile on May 22, 1960. The new findings, from two American geologists, may explain why the tsunami was so destructive. Prof Stein said: "The rupture zone was much larger than previously thought. The initial calculations that it was a 9.0 earthquake did not take into account what we call slow slip, where the fault, delineated by aftershocks, shifted more slowly. The additional energy released by slow slip along the 1,200-kilometre long fault played a key role in generating the devastating tsunami." One piece of good news from the new analysis is that the chances of another large tsunami occurring in the same area are reduced.
RETURNING TO LIFE....AMID DISASTER CHAOS
Acehnese couple Sukmadi (L), 36, and his bride Lidya Nurhayati, 25, feed each other during a wedding ceremony in the tsunami-devastated city of Banda Aceh on the Indonesian island of Sumatra on January 30, 2005. T Photo by Kimimasa Mayama/Reuters
GIVE GENEROUSLY TO
THOSE SUFFERING
More than 1.7 million people will have to be fed for months, says the UN
---
MAY DEPARTED SOULS
REST IN PEACE
.....om shaanti shaanti shaanti....
A Thai of ethnic Chinese descent lights candles at a temple in the tsunami-hit Thai island of Phuket to remember the victims on February 4, 2005 during the Chinese New Year celebrations. REUTERS/Bazuki Muhammad
---
HUMAN SUFFERING
svARgsth (Dead): 296,000+
1/3 dead are children
MISSING: 26,000 to 142,000
Injured: 500,000
Homeless: 1.5 million
Sri Lanka: 800,000 + 425,000 in refugee camps.
India: 55,00 in refugee camps
Total Humans Devastated: 5 million
Indonesia: 243,520
Sri Lanka: 30,920
India: 10,672 + 5700 missing
Thailand: 5,291+3400 missing
Somalia: 298
Myanmar: 90
Maldives: 82
Malaysia: 68
Tanzania: 10
Bangladesh: 2
Kenya: 1
Foreigner tourists: 445 dead + 3,000 missing.
---
WATCH OUT FOR THOSE WHO CHEAT & LIE
With the outpouring of grief and financial relief has emerged a new threat to relief efforts in the wake of the Sumatra Tsunami: relief aid fraud. Scam artists have popped up around the world, in person and online.